News and Announcements
Posted today 3/11/2014
One family recounts their experience with the child welfare system in Washington, D.C.
Posted 5 days ago 3/6/2014
Thanks to a collaboration that includes children's services, Cribs to College, the Washington County Career Center, and residents of Hannah's House assisted living facility, 82 fleece throws will help comfort foster children in Marietta, GA this year.
Posted 6 days ago 3/5/2014
Extreme Recruitment dedicates massive resources in a short period of time, 12 to 20 weeks, to find permanent homes for longtime foster children and youth, or large sibling groups who remain in the system.
Posted 2/28/2014
Lewis adopted her daughters as a single mother, and found the life-changing results worth the occasional frustration.
Posted 2/26/2014
14-year-old blind triplets Leo, Nick and Steven are being formally adopted by the blind man in their community who has helped them thrive.
National Campaign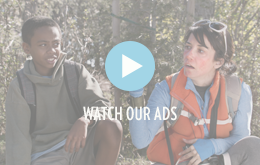 You don't have to be perfect to be a perfect parent
Learn about the award-winning national recruitment campaign produced through a partnership of the U.S. Children's Bureau, Ad Council, and AdoptUSKids.