September 2012 Caseworker of the Month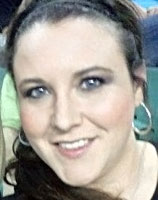 Kara Rexwinkle
Topeka, Kansas
Kara Rexwinkle, a reintegration supervisor for TFI Family Services, Inc. in Topeka, Kansas, is our September Caseworker of the Month. By applying skills of theater arts she learned in college to her career as a social worker, such as thinking on her feet and outside-the-box, Rexwinkle has helped families, children, and coworkers navigate different complexities of the adoption process.
Drawing a link between theater and social work
At first, the similarities between the dramatic arts and social work may not seem obvious. But there is an important link between the two, which Kara Rexwinkle, 28, discovered at the University of Kansas as she explored different majors. She was heavily involved in theater in high school, and the interest carried into college.
As a social worker focusing on the child welfare system, she said there are skills learned in theater that carry over, one being empathy. Just as actors, writers, and producers for the stage need empathy of the characters they create, the same quality is a requirement for dealing with children who are experiencing upheaval due to the removal from one family and placement into another.
"You have to put yourself in somebody else's shoes," said Rexwinkle. "In social work you have to do that every day. Everybody comes from different walks of life."
A new promotion and new challenges
Her empathetic values coupled with her leadership skills have given Rexwinkle the ability to help families, children, and coworkers navigate the different complexities of the adoption process. Her success at work led to a promotion this past June from caseworker to a supervisory position, which includes overseeing seven caseworkers with a combined caseload of about 100 children.
"It is a whole new set of challenges for sure," Rexwinkle said. "I'm getting a new appreciation for what my supervisors went through."
One of her supervisors, Marcy L. Scott, an adoption and integrated service manager for TFI Family Services, believes Rexwinkle is up to the challenge. Scott nominated Rexwinkle, who started with TFI a little more than three years ago, for AdoptUSKids' Caseworker of the Month award saying she leads by example.
"As a caseworker, she had a great ability to push cases through so they could be finalized and the child could be adopted. She understood the process very well, and she also understands how important timeliness is in finding those families for children so they have a sense of belonging. The number of cases that she has been able to finalize is pretty impressive."
By Rexwinkle's count, she has been involved in placing 16 children for adoption.
Scott said Rexwinkle fits the role of a leader in the adoption and foster field by being detail oriented and a well-seasoned case manager.
"I think it prepared her to take on more responsibility," Scott said.
Rexwinkle also demonstrates strong people skills.
"She is very passionate," Scott said. "She engages very well with clients. I think that makes her even more invested in them. She has a very caring personality and she is always thinking about what is best for others."
In addition to her promotion, Rexwinkle had another major life change earlier this month when she got married. She and her husband, Adam, have planned to honeymoon in one place she always vowed she would go: Disney World.
"We're going to be big kids," she said with a laugh.
Rexwinkle spent the first half of her life in Wichita, Kansas, and then moved to Iola for high school. She received her undergraduate degree from the University of Kansas, and is a devout Jayhawks fan. She went on to earn a Masters of Social Work from Washburn University in Topeka.
As for her interest in theater, it started in high school when Rexwinkle formed a strong bond with her drama teacher.
"I really looked up to her and got involved," she said.
Using theater techniques in her daily work
Although she switched majors often, she was drawn to the values of social work, and originally wanted to use theater techniques in therapy sessions.
She still uses some skills learned in theater, such as forcing herself to think out of the box, as well as to think on her feet.
One such time she had to think on her feet was early in her career. Rexwinkle showed up for a hearing and next thing she knew she was heading to the East Coast.
"I went to court, and all of a sudden I was on a plane. I had no intention of being on a plane that day, it wasn't in the planner," Rexwinkle said.
A child had been placed out of State with a family member in Maine, and the judge overseeing the case wanted confirmation the residence was safe and appropriate for the child.
"I was fresh out of gate when all this occurred, a deer in the headlights," she said. "OK, I'm going to Maine today."
Being committed to social work
Despite the theater training, her interest in social work took over.
"I believe in its core values and ethics, they really align with what I naturally fall into and believe," Rexwinkle said.
The National Association of Social Workers' code of ethics stresses service, social justice, the dignity and worth of the person, the importance of human relationships, integrity, and competence.
"I didn't feel like I had to really change what I was to fit what the profession expected of me. It made sense."
Although Rexwinkle said she switched college majors five times, she doesn't see a career change on the horizon.
"I see myself definitely working in the social welfare arena forever," she said. "I can't imagine myself doing anything that doesn't involve working with people to better themselves. I think I might have helped some people, and they have helped me. They helped me grow and develop who I am. How could I not do that?"
Inspired by this story?
Download the September 2012 Caseworker of the Month press release (PDF 53 KB).