News and Announcements
Posted today 4/23/2014
How to make a great start to your relationship with your baby or child.
Posted 6 days ago 4/17/2014
Therapies based on brain science — and limited use of antipsychotic medications — may be the solution for thousands of foster kids whose traumatic childhoods have left them with depression and extreme aggression.
Posted 7 days ago 4/16/2014
Partnerships help provide care to children with disabilities in Tanzania and dignity to Nebraska foster kids.
Posted 4/14/2014
Virginia's largest age group in need of homes is between 16 to 18-years-old
Posted 4/9/2014
A collection of Oregon churches, businesses and other community members have joined forces to make a difference in the lives of more than 750 children currently in DHS protective custody.
National Campaign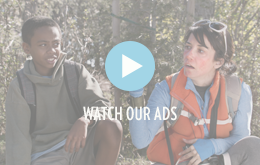 You don't have to be perfect to be a perfect parent
Learn about the award-winning national recruitment campaign produced through a partnership of the U.S. Children's Bureau, Ad Council, and AdoptUSKids.