Celebrating 20,000 Children Placed With Adoptive Families
6/20/2013
We are celebrating a major milestone. Over the last decade, 20,000 children from U.S. foster care previously photolisted on AdoptUSKids have been placed with adoptive families.
Our national photolisting website, a service of the U.S. Department of Health and Human Services and Administration for Children and Families, launched in 2002 to support States in their efforts to recruit adoptive families for children in foster care, particularly the most challenging to place ― older children, those who a part of a sibling group, and children of color. The site also helps facilitate the placements of children across county and state jurisdictional boundaries.
"This administration is dedicated to developing private sector partnerships and using technology in new ways to help children and families," said Secretary of Health and Human Services Kathleen Sebelius. "We will continue to find new avenues for matching foster children with loving families. Twenty thousand children is a wonderful accomplishment, but of course many more children still need our help."
More than 250,000 children enter the U.S. foster care system every year. More than half of these children will return to their parents; the remainder will need an alternate permanent placement. Of the children who are adopted out of foster care each year, 85 percent are adopted by their relatives or non-related foster parents. By design, the AdoptUSKids national photolisting website provides States with more opportunities to connect waiting children with an adoptive family.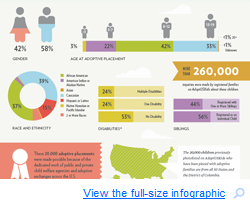 "The impact has been outstanding," said Health and Human Services Acting Assistant Secretary for Children and Families George Sheldon. "By partnering with the Adoption Exchange Association, we've been able to provide an opportunity for 20,000 children who may have otherwise been overlooked by prospective parents."
An important and promising indicator of success of our national photolisting website is that nearly 75 percent of the 20,000 children placed after being photolisted on our site were 8 years of age or older. An analysis of national child welfare data has previously indicated that children are significantly less likely to be adopted beyond age 8. Additionally, 61 percent of the children placed for adoption were of a racial minority and almost half had at least one moderate or severe disability. For more data about the placed children, see our AdoptUSKids Celebrates 20,000 Children Placed With Adoptive Families infographic.
In addition to the website, we help raise public awareness about the need for foster and adoptive families through national multi-media public awareness outreach campaigns with the theme "You Don't Have to Be Perfect to Be a Perfect Parent" done in partnership with the Ad Council and Children's Bureau. We also provide technical assistance to States, Tribes, and Courts through the National Resource Center for Diligent Recruitment at AdoptUSKids and maintain a toll-free information and referral line for families and child welfare professionals at 888-200-4005. To find out more about AdoptUSKids, watch our video Who Is AdoptUSKids? (Flash – 8:23 min.).
Read the official announcement from the Administration for Children and Families.