July 2012 Caseworker of the Month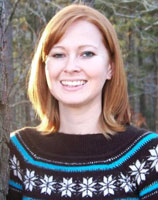 Jaimi Nelson
Rolla, Missouri
Jaimi Nelson, an adoption specialist for the Missouri Department of Social Services' Phelps County Children's Division is our July Caseworker of the Month. Her open mindedness and willingness to go above and beyond in her job helped a military family stationed overseas receive an adoptive placement.
Trying to Adopt While Stationed Overseas
Not every one of Laura and Chris Kesler's many inquiries about waiting children were rejected upfront, but enough were that they started to feel a little discouraged.
At the time, they were both active duty U.S. Army officers with the rank of major – he an Army nurse and she an Army lawyer. They were committed to the idea of adopting, and literally had an army of support behind them. However, being stationed in Seoul, South Korea, was an obstacle to them becoming a forever family for a child in foster care.
Often enough they encountered caseworkers daunted by the idea of sending a child to the other side of the planet. They got accustomed to hearing that a particular agency didn't have any procedures in place to begin the adoption process in cases such as theirs. Although federal law ensures adoptions can take place across State lines, there is no such rule about caseworkers considering military families stationed overseas.
Receiving an Adoptive Placement While on Active Duty
Early this year they came across the profile of a 13-year-old boy from on AdoptUSKids, an eager reader who took an interest in academics. Their interest was piqued and they sent an inquiry, but didn't expect the best.
"At this point we were prepared for rejection," Laura Kesler said.
Instead of getting shot down or getting no response at all, Nelson, the boy's caseworker wrote back with an inquiry of her own, according to Kesler.
"'How do you see this working?'" Kesler recalled Nelson asking.
All along Kesler said she knew how it could work, and had been telling caseworkers it could work. All she and her husband needed was for a caseworker to listen. The boy was placed with the Keslers last month and is living in Seoul with them. If all goes as hoped, the adoption will be finalized in December.
Since being placed with the Keslers, the biggest adjustment for the young man, who arrived during summer break, is being a bit lonely for friends his own age, Kesler said. However, the family has gone on a sightseeing trip of Korea to acquaint him with the culture.
"This is a great opportunity for him to experience a different culture and take his mind off what has been and focus on what will be," she said.
Military Families an Untapped Adoption and Foster Resource
Kesler nominated Nelson for the AdoptUSKids Caseworker of the Month award because of her open mindedness about matching a child to a military family, advocating for her and her husband, and investigating the services available to military families.
"Until this came up, I had never heard of it," Nelson said of overseas military adoptions. "I honestly didn't know it would be possible when they first inquired, but it's actually been relatively smooth. I've been kind of surprised. There have been some concerns because it is a different situation, but the hardest part of the whole thing has been getting the child's passport."
Nelson credits the Keslers for the work they did, including researching the services available to children of active duty military members.
"The family is awesome and has been committed to the process," Nelson said. For her part, she felt like she went above and beyond on behalf of the Keslers. "But for something to go as well as this did, it takes both sides. They definitely have gone above and beyond to meet (their child's) needs."
Laura Kesler, who went into reserve status to spend more time with her and Chris' new son, wants to spread the word among caseworkers and military members that there are loving, stable families out there and adopting while stationed overseas is an option.
"There are so many kids in the foster system, and military families are such a great, untapped resource," Kesler said.
There are agencies that can handle pre- and post-placement visits, such as Adopt Abroad, Inc., which the Keslers used.
Additionally, children of service members have access to a wide array of physical and mental health services, including services for children with disabilities. They can attend on-base schools with easy access to their parents and small class sizes. The Keslers are also entitled to three weeks of leave to help ease the transition.
Laura Kesler understands caseworkers can be skittish about placing a child in a home they cannot personally visit. But with Internet services such as Skype, it's possible to communicate virtually face-to-face. There is also the intense supervision of military life. Active duty members are held to a higher standard of conduct and scrutiny than civilians.
"We give up a lot of privacy compared to civilians. There is a lot more oversight. We are under the magnifying glass a lot more, and we are OK with that," Kesler said.
A Desire to Work in Adoption
For Nelson, 29, the desire to work in adoption came in college. She applied for a job in the field prior to finishing her psychology degree at Missouri State University and started work two days after graduation. But the seed was planted much earlier. As a young girl, about 10, she watched her parents go through the home study process. Although they did not end up adopting, the idea stuck.
"That kind of let me see how the process worked," she said. "I knew from day one what was going on."
Seeing the process and seeing a social worker in action made an impression.
"She was a really good worker," Nelson said. "She was the one who made me look at this as a possibility."
She appreciates the recognition of being Caseworker of the Month, and was grateful the Keslers nominated her.
"It's definitely an honor, for sure," she said, noting that despite living so far from the Keslers, she feels close with them.
"We've bonded through the process," she said.
Inspired by this story?
Download the July 2012 Caseworker of the Month press release (PDF 52 KB).